Title
The Sentencing Commission and Prosecutorial Discretion: The Role of the Courts in Policing Sentence Bargains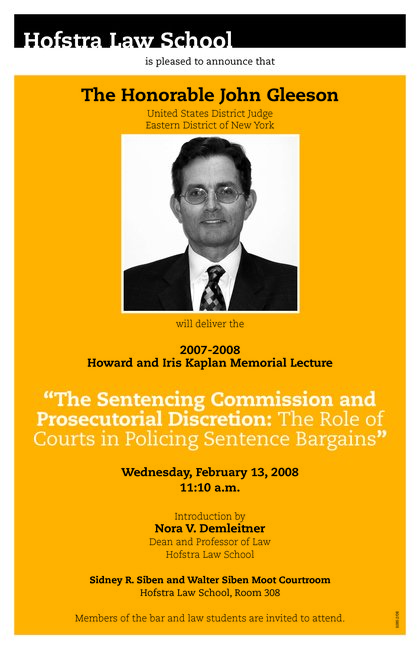 Description
The Honorable John Gleeson graduated from Georgetown University in 1975 and earned a law degree from the University of Virginia School of Law in 1980. After serving as a law clerk for the Honorable Boyce F. Martin, Jr., U.S. Circuit Judge for the Sixth Circuit, Judge Gleeson was a litigation associate at Cravath, Swaine & Moore from 1981 to 1985.
In 1985, Judge Gleeson became an assistant U.S. attorney in the Eastern District of New York. During the next 10 years, he served as chief of appeals, chief of special prosecutions, chief of organized crime and chief of the criminal division, the position he occupied when he was appointed to the bench. In 1992, Judge Gleeson was awarded the Attorney General's Distinguished Service Award for his work as lead prosecutor in the case United States v. John Gotti, et al. Judge Gleeson was appointed as a U.S. District Judge on September 28, 1994.
Judge Gleeson has been an adjunct professor at New York University School of Law since 1995. From 1990 to 1997, he was an adjunct faculty member at Brooklyn Law School. In 1994, he served as the John A. Ewald, Jr. Distinguished Visiting Professor of Law at the University of Virginia School of Law. He is a co-author of the treatise Federal Criminal Practice: A Second Circuit Handbook, LexisNexis (2007) (with Gordon Mehler and David C. James), and of the following articles: "Supervising Federal Capital Punishment: Why the Attorney General Should Defer When U.S. Attorneys Recommend Against the Death Penalty," 89 Virginia Law Review 1697 (2003); "Supervising Criminal Investigations: The Proper Scope of the Supervisory Power of Federal Judges," 5 Journal of Law and Social Policy 423 (1997); "Sentence Bargaining Under the Guidelines," 8 Federal Sentencing Reporter 6 (1996); and "The Federalization of Organized Crime: The Advantages of Federal Prosecution," 46 Hastings Law Journal 1095 (1995) (with John C. Jeffries, Jr.).
Judge Gleeson is chair of the Defenders Services Committee of the Judicial Conference of the United States.
Recommended Citation
Gleeson, John, "The Sentencing Commission and Prosecutorial Discretion: The Role of the Courts in Policing Sentence Bargains" (2008). Howard and Iris Kaplan Memorial Lecture. 2.
https://scholarlycommons.law.hofstra.edu/lectures_kaplan/2