Title
Convocation to Install Ellen Yaroshefsky as the Howard Lichtenstein Distinguished Professor of Legal Ethics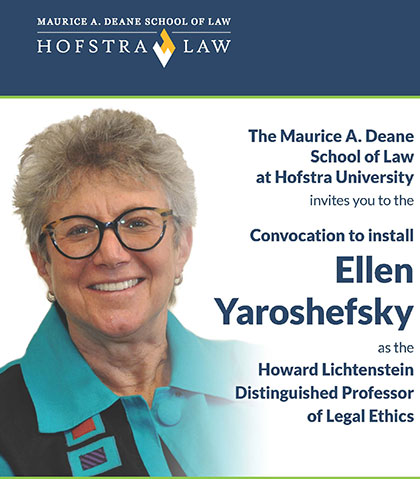 Description
Convocation to Install Ellen Yaroshefsky as the Howard Lichtenstein Distinguished Professor of Legal Ethics
From 1994-2016, Ellen Yaroshefsky was a clinical professor of law and the director of the Jacob Burns Center for Ethics in the Practice of Law at the Benjamin N. Cardozo School of Law. She taught a range of ethics courses, organized symposia, and wrote and lectured in the field of legal ethics and criminal justice. At Cardozo, she directed the Youth Justice Clinic and the Intensive Trial Advocacy Program.
After graduation from Rutgers-Newark Law School in 1975, Professor Yaroshefsky began her career by creating a legal office in Tacoma, Washington, for the Nisqually and Puyallup Native American Tribes. She became a Seattle public defender and subsequently was in private practice, specializing in battered women self-defense cases. She returned to New York in 1982 to work at the Center for Constitutional Rights, where she litigated international human rights and criminal cases around the country. In 1988, she joined the Cardozo Criminal Law Clinic faculty and continued to litigate civil rights and criminal cases.
Professor Yaroshefsky serves on the New York State Committee on Standards of Attorney Conduct and on ethics committees of state and local bar associations, and currently co-chairs the Ethics Committee of the National Association of Criminal Defense Lawyers. She served as a commissioner on the New York State Joint Commission on Public Ethics and was the co-chair of the American Bar Association's Ethics, Gideon and Professionalism Committee of the Criminal Justice Section.
She is on the board of the New York Civil Liberties Union and was formerly on the board of the Center for Constitutional Rights.
Professor Yaroshefsky has received a number of awards for litigation, and received the New York State Bar Association award for "Outstanding Contribution in the Field of Criminal Law Education."
Recommended Citation
Scheck, Barry C.; Tolentino, Casandra; and Yaroshefsky, Ellen, "Convocation to Install Ellen Yaroshefsky as the Howard Lichtenstein Distinguished Professor of Legal Ethics" (2016). Howard Lichtenstein Distinguished Professorship in Legal Ethics Lectures. 14.
https://scholarlycommons.law.hofstra.edu/lectures_lichtenstein/14