Title
The Monoracial Family Norm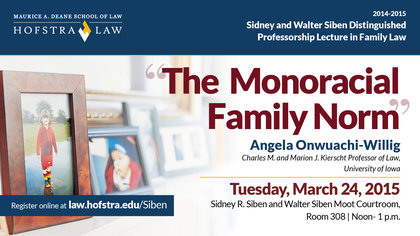 Description
As a Siben Distinguished Lecturer, Professor Onwuachi-Willig was asked to write an article for the Hofstra Law Review. Her article will appear in Vol. 43, iss. 3 of the Hofstra Law Review. Following its publication, you will be able to download it here.
Recommended Citation
Onwuachi-Willig, Angela, "The Monoracial Family Norm" (2015). Sidney and Walter Siben Distinguished Professorship Lectures. 3.
https://scholarlycommons.law.hofstra.edu/lectures_siben/3
This document is currently not available here.
COinS