Title
Immigration Enforcement in the Age of Trump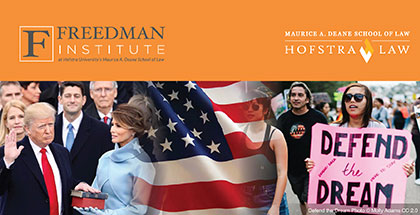 Description
Nearly one year after Donald Trump was elected president, the legal landscape for immigrants in the U.S. has changed dramatically. This panel will explore what these changes have meant for enforcement practices of ICE, immigrant children and youth, and humanitarian relief for immigrants.
Co-sponsored by the Black Law Students Association (BLSA), the Immigration Law Society, the Latino/a American Law Students Association (LALSA), OUTLaw, the Public Justice Foundation and the South Asian Law Student Association (SALSA).
Recommended Citation
Krieger, Stefan H.; Liebmann, Theo S.; Torstveit-Ngara, Emily; Wren, Lauris; and Gundlach, Jennifer A., "Immigration Enforcement in the Age of Trump" (2017). Freedman Institute for the Study of Legal Ethics Lectures. 2.
https://scholarlycommons.law.hofstra.edu/ilel/2
This document is currently not available here.
COinS