Title
Does the Constitution Give a President Immunity from Criminal Prosecution?
missing image.gif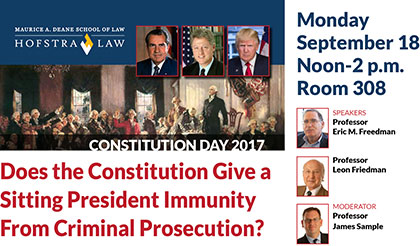 Description
There are few topics more difficult or important than the question of whether the president of the United States can be indicted and prosecuted for crimes while still in office. Although scholars agree that the Constitution's Impeachment and Removal provisions allow Congress to remove a president from office, whereupon the criminal process may proceed as usual, they disagree as to whether a president is immune from prosecution while in office. Despite these constitutional uncertainties, during the investigations of Presidents Richard Nixon and Bill Clinton, prosecutors strongly considered indicting them. Special Prosecutor Robert Mueller's investigation of President Donald Trump's conduct has raised this issue to prominence again.
Professor Eric M. Freedman is the nation's most prominent scholarly authority on this question. In a series of law review articles and in testimony before Congress, he has argued that a sitting president is not immune from criminal prosecution. Please join us on Constitution Day to hear his views along with commentary from Professor Leon Friedman, and to take part in a lively discussion moderated by Professor James Sample.
Recommended Citation
Freedman, Eric M.; Friedman, Leon; and Sample, James, "Does the Constitution Give a President Immunity from Criminal Prosecution?" (2017). Constitution Day Lectures. 3.
https://scholarlycommons.law.hofstra.edu/lectures_consitutionday/3
COinS